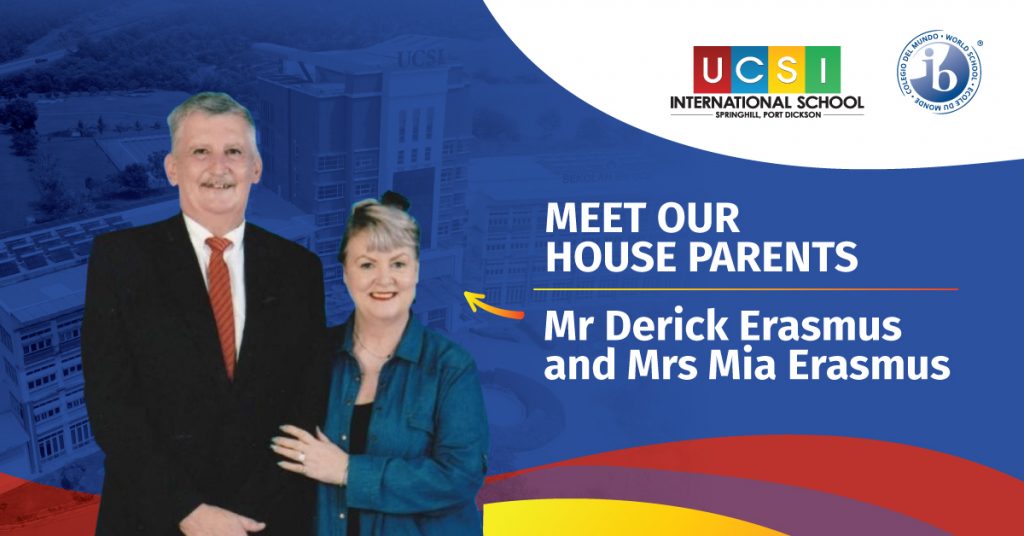 MEET OUR HOUSEPARENTS
Effective 7 July 2021, Mr. Derick Erasmus and Mrs. Mia Erasmus have joined UIS Springhill as the school's new houseparents. Both are highly experienced and passionate educationist and teachers, Derick and Mia will focus on enriching and enhancing students' boarding experience and also building a community where learning, personal growth and exploration are top priorities; where programmes and activities are abundant; where making friends is paramount; and where success is celebrated.
Mr Derick Erasmus
A South African citizen, Derick is a professionally qualified teacher who has 30 years of experience in international education and school leadership. Derick has taught English. Science, Maths, Technology, Geography, History, Afrikaans and Health Education. He has also successfully coached winning rugby and cricket teams.
Derick is an accomplished leader with comprehensive operational, planning and programme development experience in the school sector. He has managed and taught at schools in several countries around the world, including South Africa, South Korea, Nigeria, Oman, Sudan and Malaysia. He is also an internationally accredited evaluator (inspector) of quality assurance in schools which includes quality assurance in school boarding.
Derick has managed school boarding and served as a boarding parent. He is passionate about school boarding and student well-being as he believes that the creation of a homely, happy and safe hostel life will enhance student's academic performance. He further emphasises that a well balanced and disciplined lifestyle is a necessity to successful adulthood.
Mrs Mia Erasmus
Mia is a South African citizen and spouse of Derick.
Mia is a native and experienced English teacher who has taught English at school and university level. She graduated with a Masters degee in Teaching English as Second Language (TESOL). Prior to joining UCSI International School Springhill, Mia worked as the English coordinator and a lecturer at a university college and has also taught at an international school in Malaysia.
Mia believes in fostering students in a disciplined, positive and safe environment. As a community outreach leader, she strategically coordinated various programmes and activities. She strives to create an environment that supports and facilitate academic, social and emotional wellbeing and is passionate to encourage and establish student's self-control by promoting positive achievements and behaviour.
With her loving and caring attitude, she always puts her students upfront, and the students adore her motherly attitude.