Meet Our School Principal & DP Coordinator
Meet Our School Principal & DP Coordinator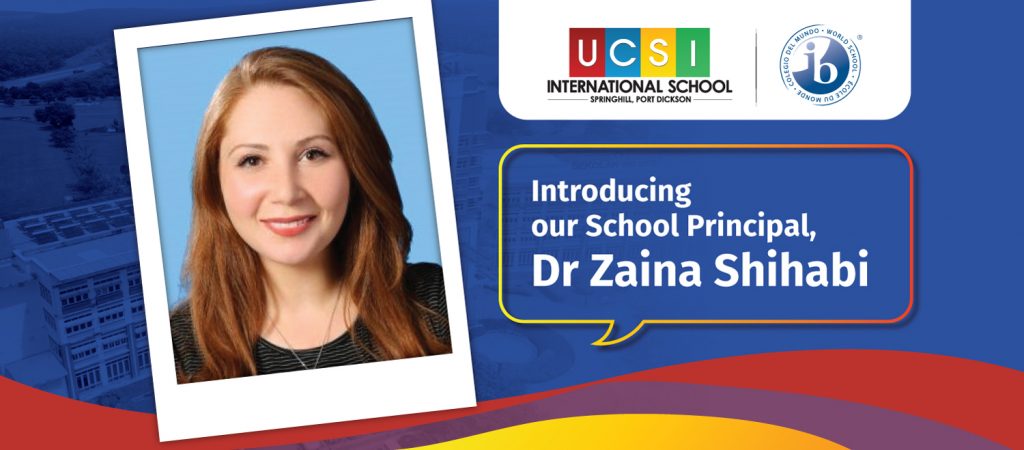 DR. ZAINA SHIHABI – SCHOOL PRINCIPAL & DIPLOMA PROGRAMME (DP) COORDINATOR
Dr. Shihabi joined us at the UCSI International School Bandar Springhill Campus last year as the Diploma Programme Coordinator and an English and TOK teacher. Prior to this, she worked as an educator in Jordan and the UK. Whilst in the UK, Dr. Shihabi completed her Master of Arts in Education and her PhD, and lectured both undergraduate and Master's level classes in Liverpool and London. In addition to this, Dr. Shihabi holds a Teaching English to Speakers of Other Languages (TESOL) certification and has also just recently completed a Postgraduate Certificate in Education with Liverpool John Moores University.
The foundation of Dr. Shihabi's teaching philosophy is that 21st century skills, such as effective communication, encouraging critical thinking, and an empathetic approach are all crucial for a successful and supportive learning environment. Although she believes in a rigorous approach to teaching and learning, Dr. Shihabi values holistic education, and always aims to ensure that students feel supported and heard. In her spare time, she loves to read, sing and listen to music.
Dr. Shihabi is looking forward to continuing to serve the UCSI International School Bandar Springhill in her new role.
A MESSAGE FROM DR. ZAINA SHIHABI
Dear Students, Parents and Guardians,
My name is Zaina Shihabi and I am your new Principal here at UCSI International School, Bandar Springhill. It is my honor and privilege to welcome you to our school.
Our approach at UCSI International School Bandar Springhill is holistic and underpinned by 21st century skills. We aim to support our students both academically and socially by creating an empathic environment that is conducive to learning. As an International Baccalaureate (IB) World School, we provide a challenging inquiry-based inclusive curriculum for students in the primary years programme (PYP), the Middle Years Programme (MYP), and the pre-university Diploma Programme (DP).
At UIS Springhill, we encourage our students to approach knowledge by asking questions that lead the learning and through sharing perspectives. This student-centred approach allows students to take ownership of their own learning and make connections with each other and among different disciplines. Some of the many strengths of IB graduates that top universities around the world have identified are their ability to think critically, manage themselves and their time effectively, and their open-mindedness. At UIS Springhill, we prepare our students to become global citizens and future leaders who aim to make a difference in the world.
UIS Springhill's professional, qualified, and certified educators are held to high international standards. They are passionate about our students' learning and wellbeing and will not hesitate to go the extra mile in order to support them. In addition to being supported academically and emotionally, our students are also given individual and personalized attention and are continuously encouraged. Moreover, we offer a wide variety of co-curricular activities during both virtual and face-to-face learning.
Welcome to the UCSI International School Bandar Springhill community! We look forward to meeting you!
Zaina Shihabi
School Principal
UCSI International School (Springhill Campus)