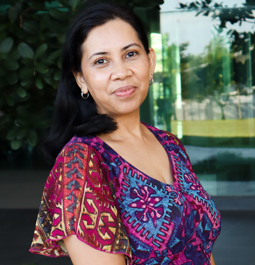 Name: Sabrina Ratnam
Title: PYP Homeroom Teacher
Nationality: Malaysian
Qualifications: 
Bachelor of Arts in Education, majoring in Literature, University Putra Malaysia
Diploma in Education, Batu Lintang Teachers' Training College, Malaysia
Accredited marker and invigilator for Primary Checkpoint Cambridge Assessment
17 years teaching experience in Russia and Malaysia
Sabrina believes that all children should be given the opportunity to learn and develop at their own pace. In her classroom, she encourages positivity and trust that each child should be comfortable in their learning environment for them to improve. During her free time, Sabrina loves to indulge in reading, and has a strong love for travelling and learning about new cultures and the variety of delicacies the places have to offer.