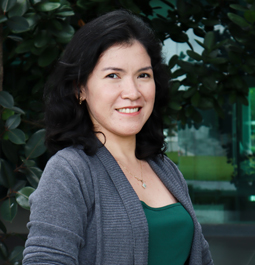 Name: Charline Bolito
Title: Economics & Mathematics Teacher
Nationality: Filipino
Qualifications: 
Master's in Public Policy and Governance, University of the Philippines
Bachelor's Degree in Economics, University of the Philippines
Post Graduate Certificate in Education, National Geographic Educator's Certificate
TEFL Certificate, MyTefl, Canada (Teaching English as a Foreign Language)
7 years of teaching experience in Philippines, Vietnam and Malaysia for both IGCSE and IB curriculum
After finishing her Bachelor's degree in Development Economics and her Master's in Public Policy and Management, Charline worked as a Project Development Manager for an education-oriented NGO and an Economics Researcher for a private firm before she started teaching Japanese university students and had a teaching post at the Institute of American Education-Ivy prep in Ho Chi Minh, Vietnam.
Charline considers herself as an educator who sees the world through different lens and constantly motivates to have that burning desire for learning. Charline enjoys reading books, writing a blog, traveling, and playing the guitar.